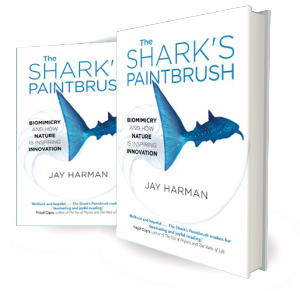 Download a Sample Chapter from
"The Shark's Paintbrush" today!
Find out how hippopotamus sweat can help us prevent skin cancer.
Learn why the straight line is not the model for nature's streamlining efficiency.
Accept Jay's invitation to envision a world of technologies designed in partnership with nature.
The paperback edition will be out in January!
Download Intro
Buy Now!
– US
Buy Now!
– UK
---
My mission is singular: to draw from my lifelong fascination with water to halve the world's energy use.
— Jay Harman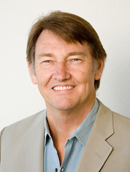 Since the dawn of the Industrial Revolution, manufacturers have employed the "heat, beat, and treat" method—start with raw material, heat and twist it into shape using enormous aunts of energy, then maintain its design, strength, and durability with toxic chemicals. But in a world of depleted natural resources where people long for sustainable innovation, entrepreneurs and scientists are partnering with nature to develop clean, energy-efficient, high-ROI, solutions for the future.
Biomimicry, the science of employing nature to advance sustainable technology, is inspiring this new industrial revolution—one that is changing industries as diverse as construction, biomedical devices, pharmaceuticals, transportation, and information technology.
At the center of this change is award-winning inventor and biomimetic entrepreneur Jay Harman. For more than twenty-five years, he's garnered more patents and acclaim than most scientists achieve in a lifetime. In The Shark's Paintbrush: Biomimicry and How Nature is Inspiring Innovation, Jay introduces us to pioneers who are making technological breakthroughs by uncovering and copying nature's hidden marvels. He shows how we can rectify the oft-competing desires of creating more powerful, lucrative technologies while preserving the planet and maximizing sustainability. The Shark's Paintbrush injects a new way of thinking into the business sphere.
A blueprint for a totally different business model and perspective and a window into a new frontier that offers tremendous opportunity—without sacrifice.
How a fascination with flow geometries led to streamlined industrial tools for industry, and the founding of an innovative bioinspired design company.
From the boardrooms to kindergarten classrooms to the way we see our own backyards, there is a cultural shift for new ways to work with nature as a mentor.
Stories and anecdotes about undersea species, their evolutionary history, and the ways that we are learning from them to improve our future.
Leeches? Geckos? Kingfishers? Explore an array of benefits—from often overlooked animals—that are leading to highly valuable business opportunities.
Biomimetic business opportunities fly right under their noses! (Including bugs zipping around our picnic table and bees buzzing a nearby flower …)
Plants as powerful models for the structures that offer a wealth of designs and engineering feats with practical application in our own lives.
Mollusks may be spineless, but they offer some sharp ideas for dramatically improving our lives and innovating our business methods and materials.
Three key principals to running a bioinspired organization—and how they make a critical difference in the current market.
The argument for patient capital—and how current investment practices can impede organic growth.
How can a company conduct business like a well-established forest? Follow Nature's operating instructions to increase wealth as well as build a healthier world.